Next Event: Drone Camp West Africa
Meet like-minded individuals
africanDrone is committed to creating a real-life community of drone pilots, journalists, entrepreneurs, government officials, and all other interested parties. To this end, we periodically host drone camps and story camps dedicated to:
- Imparting knowledge of latest technology/techniques;

- Networking with like-minded individuals and businesses;

- Providing direct grants awarded to promising story ideas;

- Gaining practical flying experience and training.
Our schedule of training camps and story grants is ongoing, sign up here to keep updated and when the next one will be!
This one-day workshop was held at the same time as the ZanSEA conference for mapping on the island of Zanzibar. We covered how to use drones for breaking news stories, collecting data, and covering difficult-to-reach places. Seven journalists from Tanzania, Kenya and Uganda attended, and will be working on developing their own drone journalism projects over the next two months.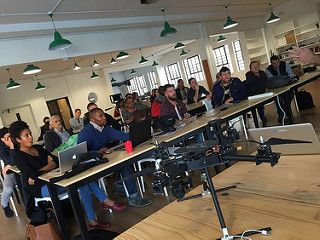 A group of South African journalists and civil rights organizations tackled questions such as: When and how can drones be used to improve storytelling? What are the rules that apply in different jurisdictions? This was South Africa's first drone camp, a three-day, hands-on event in Cape Town organized by ICFJ Knight Fellow Chris Roper. The 30 participants included journalists from 12 of South Africa's leading media outlets, and for most, it was their first time flying the unmanned aircraft.
20 African journalists (winners of the Code For Africa Impact Africa storytelling grant) came to Zanzibar for a boot camp on interactive multimedia storytelling techniques, drone use in stories, photography, social media, and much more. Their stories were on topics ranging from poor health services for pregnant women in rural Kenya to the loss of cocoa farms to illegal mining in Ghana.